NismoTronic 3.10.002 Update: Launch control switch | ADC Inputs | TCD Compare
NismotronicSA Update: 3.10.002 now available
* Added a launch control switch input which includes the ADC inputs. This gives the user the ability to enable/disable the launch control using a switch or a button. This is handy for those who do NOT have a working speed sensor and still want to use launch control using a button or similar while launching.
* Added ADC inputs to clutch switch input
* Added
min RPM
for closed loop operation (allows closed loop to be turned off below a specified RPM).
* RealTime updates now include ALL tables and parameters (not just main fuel/ignition maps).
* New compare function with ability to quickly view the compared file in the main tune window and you can also import the selected compare item into your opened tune. To get to this window go to Tools -> Compare TCD
* Right click on tables/parameters when compare file is open and select "Compare" to view compare data
Toggle realtime updates
Launch control switched input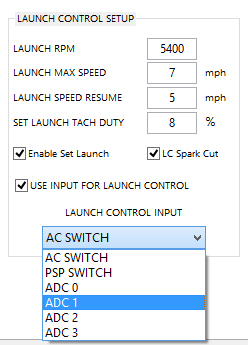 TCD compare functions