Tuner-evolution philly aug 3rd 2013 (indoor car show)
[img]http://i307.photobucket.com/albums/nn309/BAKERZMANEK9/1016161_10201494515788463_1841524838_n_zpsb331164d .jpg[/img]
2 WEEKS AWAY!!!!!!!!
Venue Address: 100 Station Avenue, Oaks, PA 19456 |
*If using a GPS, type the following address to get directed to the venue: 1601 Egypt Road Phoenixville, PA 19460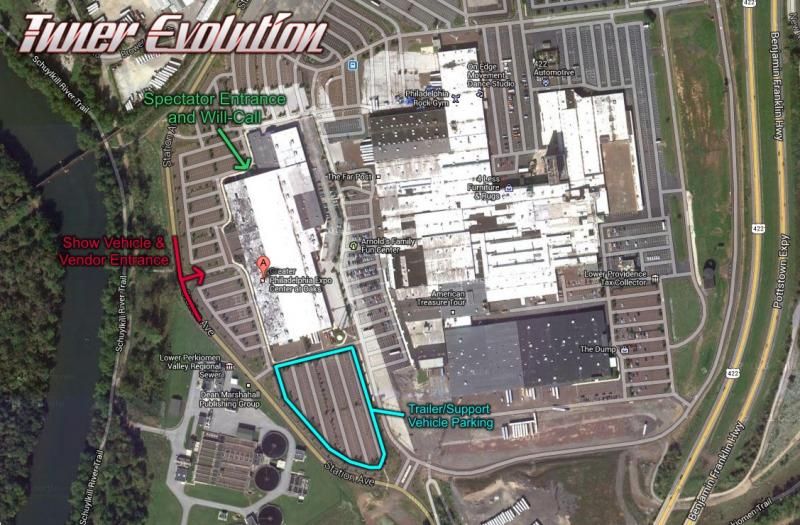 Tuner Evolution Philly Takeover!
One of the area's biggest and best automotive lifestyle events is back and better than ever! On August 3rd, 2013 from 12-8pm at The Greater Philadelphia Expo Center Oak's Pa. We will again be showcasing for some of the country's top custom vehicles.
With over 40 vehicle classes and specialty awards, competitors and enthusiasts of any level can compete. Including BLACK 4, an all VIP Style and Modified Luxury car show presented by Liberty Vip & Luxury Abstract. ALL IN ONE ROOM!
There's something for everyone at Tuner Evolution. Even if you're not a car enthusiast there are plenty of events to keep just about anyone entertained. Some of these include the Am Flatland Circuit BMX Competition, Tuner Evolution Model Lounge, Driftsylvania Productions RC drift demo, live musical performances, bikini contest, just to name a few.
This year's show will also once again feature the Tjin Edition and AutoLife Tour's. Led by Aaron Vaccar and legendary car builder Neil Tjin, these tours showcase some amazing cars and some of the industry's newest, innovative aftermarket products.
Featured Models: Emkay Vee| Nathalie Castillo | Miz kpop | Jeri Lee |April Garcia | Holly Hocks | Saven Mi
The show will also feature some of the industry's top companies and vendors showing off the latest and greatest in aftermarket performance parts and accessories. Vendors, it's not too late to book your spot at this year's event! Contact us today!
This is an all ages event! Kids Age 6 and under is Free.
Interested in registering your vehicle for this year's event? There's still time!
Click Here to register now!
TE Vehicle Registration
For more information about the show, visit tuner-evolution.com!
Join the Evolution!
We look forward to seeing you at the show
Promo Video:
remember to pre-register
[img]http://i307.photobucket.com/albums/nn309/BAKERZMANEK9/971509_519052494816931_1245391443_n_zps0cb1c7eb.jp g[/img]
and also get a chance to win 2 mini ipads.
[img]http://i307.photobucket.com/albums/nn309/BAKERZMANEK9/945108_10201600584400112_433591643_n_zps6d78d75a.j pg[/img]