End of Summer Meet 10/2/2010 Farmingdale NY
Figured I'd invite my SR20 brothers to this meet
**Saturday October 2nd 2010**
Dave & Busters Farmingdale
261 Airport Plaza Blvd.
Farmingdale, NY 11735
Time 2 pm
Its that time again !!!!!!
The location is easily accessible either by the Southern State Parkway (SSP exit 32 North - Farmingdale) or the Long Island Expressway (LIE exit 49 South - Amityville).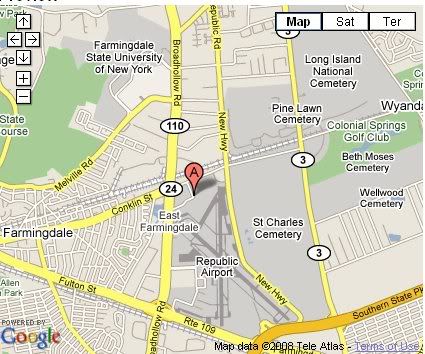 They have a very nice size parking lot which would allow for a good number of members to park and not be concerned about parking, spaces, etc. This would also be a good time to meet other members of the forum and see very familiar faces as well.
For those that are not familiar with Dave & Buster's, they have a nice size game room (for members who have children) or for those of us (including myself) who like to play games and live out my childhood all over again. They also serve very good food for those that would like to dine in and access to most games (especially for us diehard Baseball fans).
The meet will start at 2PM. Of course, I'm sure that there will be caravans set up from Queens, Brooklyn, Staten Island, NJ & CT. ALL MEMBERS from NYCMaximas are welcome to this meet.
MEET RULES
1. No speeding in, out or around the parking lot. There are lots of people walking around, including children. Don't be an idiot.
2. No burnouts.
3. No smoking weed or drinking alcohol in the lot. You can do that on your own property.
3. No revving motors or bumping systems. We will attract security. We've had three meets at D&Bs in the past with security observing
and not doing anything. Let's not give them a reason to call PD.
4. We are on private property, if security does cause a ruckus, it is suggested that you lock your vehicle, proceed into D&Bs and buy a game ticket. You cannot be kicked out of the lot if you are patronizing the facility. Keep your receipt with you.
Act maturely and responsibly and everyone will have a good time, just as we have many times in the past
Here's the original post
NYCMaximas Forums