How to: Tap a Cast Iron Manifold for EGT
The previous owner of my car had the EGT probe placed on the downpipe:
I didn't really care for that. By the time you get a reading, the exhaust gas has already traveled through the manifold, turbo, and downpipe. It can't be nearly as accurate (or immediate) as tapping the manifold.
The only question is which manifold runner to tap. Many seem to think cylinder 1 is most likely to go lean. This seems reasonable as it is furthest away from the fuel supply. Some argue it is cylinder 3, as it is usually the piston that suffers the most detonation on blown motors.
I chose # 3 because almost every motor I've seen blown to sh*t was because of detonation in that cylinder. Realistically, it doesn't matter. I glance at the EGT pretty often, but I'm sure most people were looking at the road when their engines self destructed. That's most likely what I'll be doing when this one goes.
Looking at the space I had to work with, I thought straight through the middle might be a little too tight.
Installing the probe at an angle seemed like a better option.
I use an Autometer EGT gauge. The probe uses a 1/8" NPT thread. The tap calls for a 21/64ths drill. Not something most people happen to have. Since NPT taps are tapered, I figured a 5/16ths (20/64ths) would do just fine. I was correct.
After I marked my spot with a punch, I started out with a small drill bit. Then I slowly worked my way up from there, eventually to 5/16ths.
Once I finished the starter hole, I cleaned up the hole to get rid of all the shavings and gave it a shot of oil. Using a tap is much different than just turning a bolt. Remember, you're cutting iron here. If you screw up, you may be in the market for a new manifold. You have to go slowly, don't try to run the tap all the way through in the first shot. I usually do something like 1/2 turn forward then 1/8 turn back for 4 or 5 rotations, then slowly back the tap out.
Then clean up shavings, test fit the sensor adapter, re-oil, and repeat until your adapter is reaching the proper depth.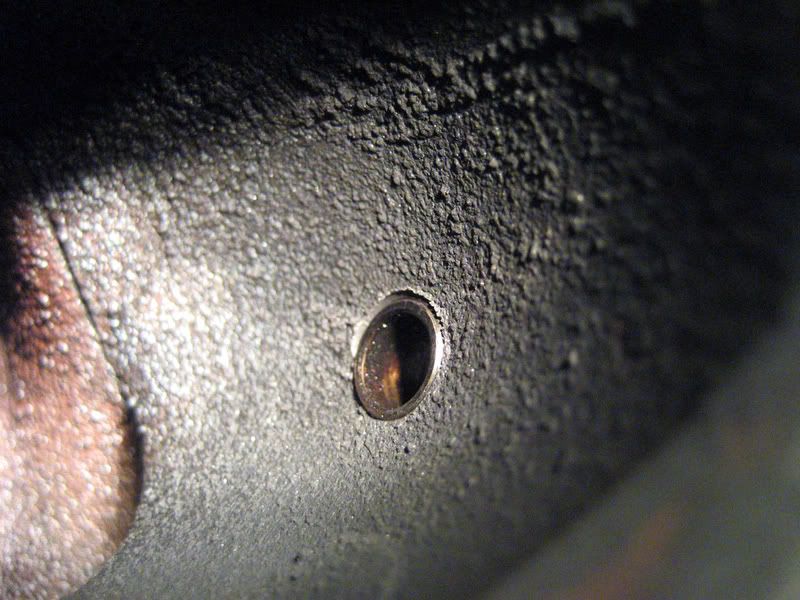 Here is the finished product: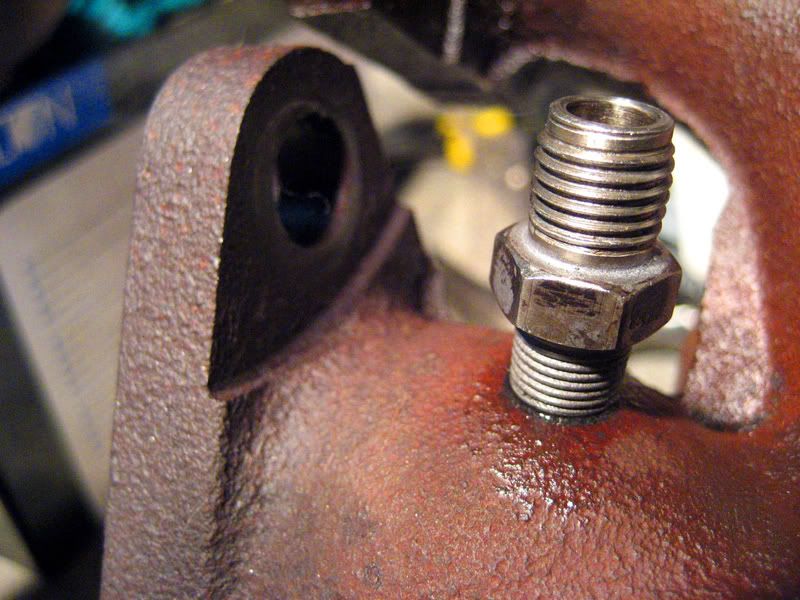 I needed to modify the manifold heatshield to accommodate the relocated EGT sensor. After I picked the spot, I drilled out a hole. I started small and worked my way up to a 1/2" bit, then used a reamer to get it to the appropriate size (~1"). Finally, I cleaned up the hole with a round file and some sandpaper.
Sanded down and prepped:
A few coats of VHT flameproof:
All together: