HowTo - P10/P11 SR20VE Coil On Plug w/ 20V Crank Angle Sensor
I posted this on G20.net, but I figure others can use this information on an SR20DE motor level. I documented and put this together because I couldn't find a real HowTo setup a Coil on Plug system for the G20 (SR20DE/VE essentially). There is a lot of information (and I do mean A LOT) on SR20forum and the dash, but nothing wrapped up easily into one thread. So here goes, I'm assuming that if you are performing this swap, you know how to do basic wiring and have a system to utilize the CAS and COP systems. I'm also assuming you have a 20V valve cover to match, but I've placed the valve cover and gasket part numbers below as well.
Big thanks to Charles (Snickers), Ben Fenner (BenFenner), Justin (JustinP10) and Tony Szirka (my tuner and close friend at UMSTuning here in Phoenix, AZ) for helping to get this all pooled together.
Chassis: P10/P11
Engine: SR20VE
----------------------------------------------------------------------------------
Legends
---CAS Wiring Legend:
Connector Pinout


1 | Crank Angle Sensor 180* (REF) Signal
2 | Crank Angle Sensor 1* (POS) Signal
3 | Power
4 | Ground

Ignition Wiring

---Coil Pack Wiring Legend:
IB | Coil Signal
G | Ground
+ | Power

---Relay Wiring Legend:
5 | Ignition Power
6 | 12v Constant Power (Battery)
7 | Power to Coil Packs
8 | Ground

----------------------------------------------------------------------------------
Wiring Diagrams
---Nissan SR20VE 20V Crank Angle Sensor Diagram/Pinout:
Pin 60 | Ground
Pin 62 | Crank Angle Sensor 1* (POS) Signal
Pin 81 | Crank Angle Sensor 180* (REF) Signal
Pin 109 | Power

---Nissan S15 Coil Pack Diagram/Pinout:
Pin 1 | Coil Signal
Pin 2 | Ground
Pin 3 | Power

---Nissan SR20DE Ignition Diagram/Pinout:
B/R Wire | Ignition Power

----------------------------------------------------------------------------------
Wiring Instructions
Cut 8 pin DE harness connector off, remove distributor
Connect CAS
Use the existing harness wiring to connect the new 20V CAS (see photo and legend for sequence):


Use sourced connector (see part numbers for recommended connector)


1 | Crank Angle Sensor 180* (REF) Signal
2 | Crank Angle Sensor 1* (POS) Signal
3 | Power
4 | Ground

Cut ignition wire (5) from secondary distributor harness, this will wire/run into power relay
Install and wire a relay as follows:

5 | Ignition power (see above image)
6 | 12 volt constant power (to battery)
7 | 12 volt power to coil packs
8 | Ground to chassis

Install coil packs into VC

Use sourced coil pack connectors
Wire coil pack(s) as follows:


IB | Coil Signal
G | Ground
+ | 12 volt power (from relay)

Wire all coil pack 12 volt constant power together, run to relay wire 7 (see above)
Run remaining coil signal (IB) wires to ECU or trigger device

B13 AEM V1 and V2 Wiring Pinout: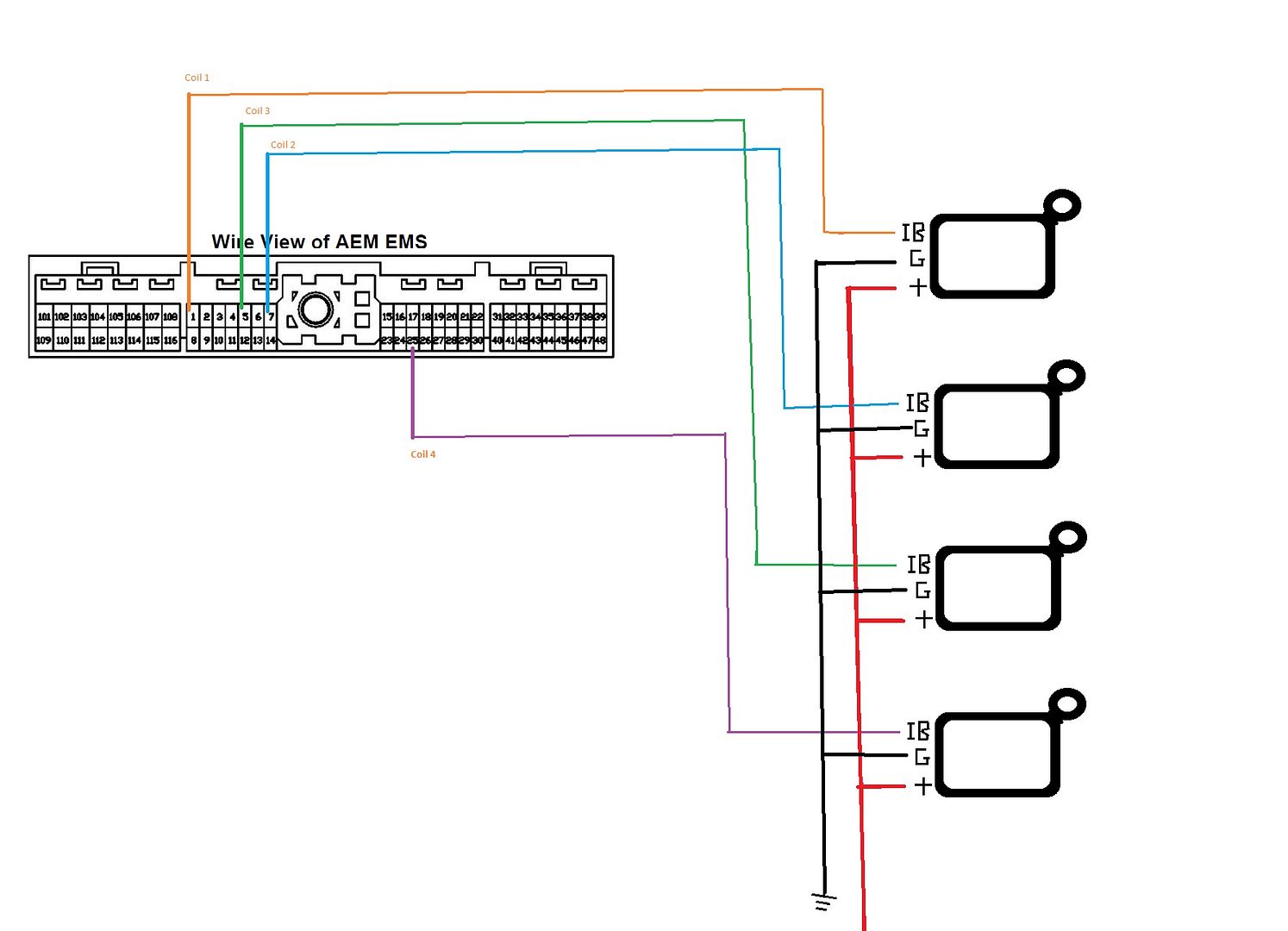 ----------------------------------------------------------------------------------
Part Numbers
Coil Interface Connector | $10 shipped (click here)
Coil Pack Connector | $8 shipped (click here)
Coil Pack S15 Harness | 24079-91F00 | $46 - $65 (Contact Gspec or click here)
Crank Angle Sensor Connector | WRS-CAS-NSN | $10 shipped (click here)
Crank Angle Sensor (P12 20V) | 23731-8H60A (New Part Number) | 2371-8H600 (Old Part Number) | $325 - $500 (click here)
Four (4) pin relay | 1362A11
Valve Cover (20V VVL) | 13264-AW01A | $200 - $300
Valve Cover Outer Gasket (20V VVL) | 13270-2J201 | $25
Valve Cover Inner Gasket (20V VVL) | 13271-65F00 | $10

----------------------------------------------------------------------------------
Connector Photos (for reference)
Crank Angle Sensor 4 Pin

Coil Pack Connector

----------------------------------------------------------------------------------
Final result