Those of you who garage your SR20 and have other vehicles
Do you drive your garaged car A LOT less?
Before we got this house/garage, I drove it at least 3-4 times a week. Now I got my first house with a real garage ever, a 1 car garage, and between the g/f and me we have 4 cars. Guess which car went in the garage. Yep, the '92 Sentra SE-R VE. I find myself just waxing it now and then and never taking it outside. Even though it's the summer.
The first days when we moved in, I washed the car at a spray wash, then came home and waxed it with real wax, now I just use the spray detailer once a night on the entire car. After this, I totally understand how someone can have a car and never take it out (i.e. - the Ferrari in the movie "Ferris Bueller's Day Off")
Now I'm not comparing a B13 to a Ferrari - but I get it now. You spend so much time cleaning it that you don't want to take it anywhere and get it dirty again. On a scale of 1-10,
considering it's 22 years old
, I give the exterior an 9/10 and interior an 8.5/10.
Here she sits
.
.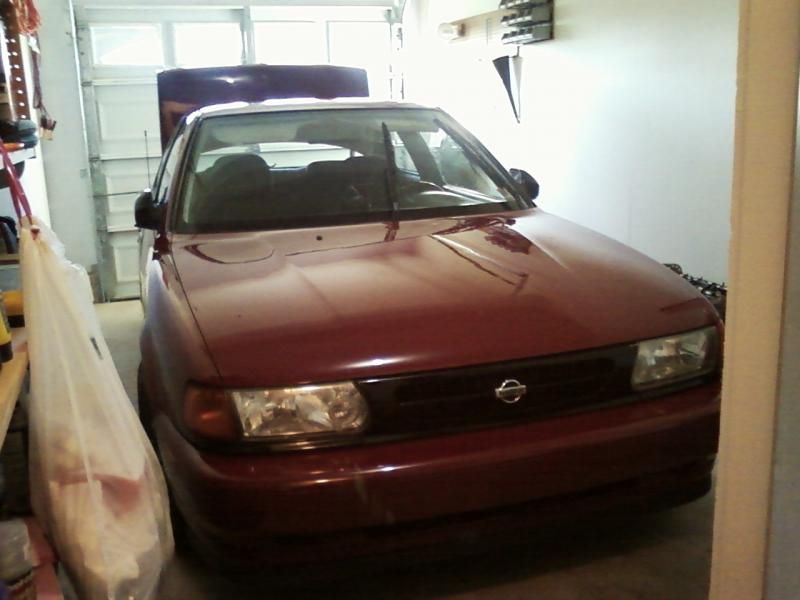 .
.
So what about you guys? I feel like I have to protect my it. My g/f thinks I'm nuts.
But you see, my first car was a 93 Sentra XE, when I was 16 in 1998, and it was my dad's car. He then got a 98 Sentra SE (the one with the SR20) and I was hooked. My dad passed away 1 1/2 years ago. These cars are more to me than just cars. They are a part of life. And having this car reminds me of my dad.
(btw sorry for the crappy cell phone pic. It doesn't do it justice)