My Story of Frustration
Alright well here is my problem that took me two years to catch. So two years ago when I was considering a swap for my NX I found an Volcanic Orange SE-R on E-bay. Hence my Screen Name. Well I looked at the ad and read SR20VE with a Garrett T-28 along with a crap load of audio equipment. It looked like a good deal. And yes it did look a little ricey but I could look past that for the performance value. So I thought shoot, this has all the work done for me for what I want. So I bought it for 4 grand because the car itself was clean from the pictures and in person. I thought it would be a fun weekend toy and I will keep the NX stock. Just note I am not a n00b with cars. I have been working on cars for the past five years and have been able to fix every project I have been able to tackle. I was just a major SR20 n00b compared to most of you guys. I thought the thing was fast and the RR felt like my friends VTEC motor so I truly thought for a long time it was a boosted VVL that I owned.
Well here is where I deserve the n00b of the year award.
IT TOOK ME TWO YEARS TO FIND OUT I PAID ALL THAT MONEY FOR A RR SR20DE AND IT WAS NEVER A VE!!!
ONLY THING VE IS THE VALVE COVER!!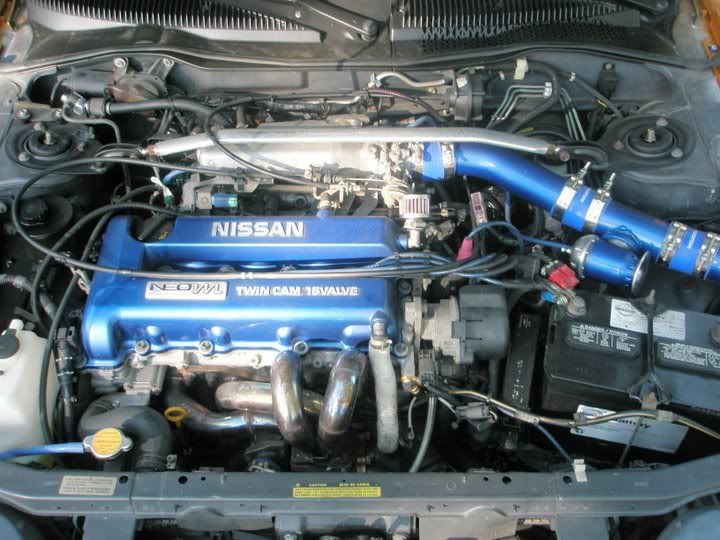 Along with that within a year of owning the car I realized the inlet gasket was blown on the turbo, the compressor wheels were chewed up, and the radiator had a small leak. I fixed all that just fine within the first month because that was not a big deal. The car also has cold start up issues and now I realized why. It turns out that the RR intake Manifold has an idle air control that the B13 harness does not have a plug for so it has a manual adjustment screw put on it from the guy who sold it to me. Which is fine because once the car warms up it runs great. But point is its still a cob job the way it was done and if its not adjusted right the engine bucks like no tomorrow and the cold start ups are a royal pain.
I did not find out until my valve cover was leaking around a spark plug that I had an RR because I had to change the gasket. As you can see in the pictures its an RR manifold also. I also did some snooping on google to find any info on my car and this came up.
who's turbo sr20ve is this on ebay? - SR20 Forum
Note: everyone is calling me a dummy for buying the car on there
Gosh I wish I knew of the Forums back then when I bought this. So now I have a 4 grand investment only worth 2 grand at most. All because I did not do my research. I am beyond mad at all this.
Long Story Short: Don't even buy cars from E-Bay.