2005-2006 Altima SE-R thread
.
.
.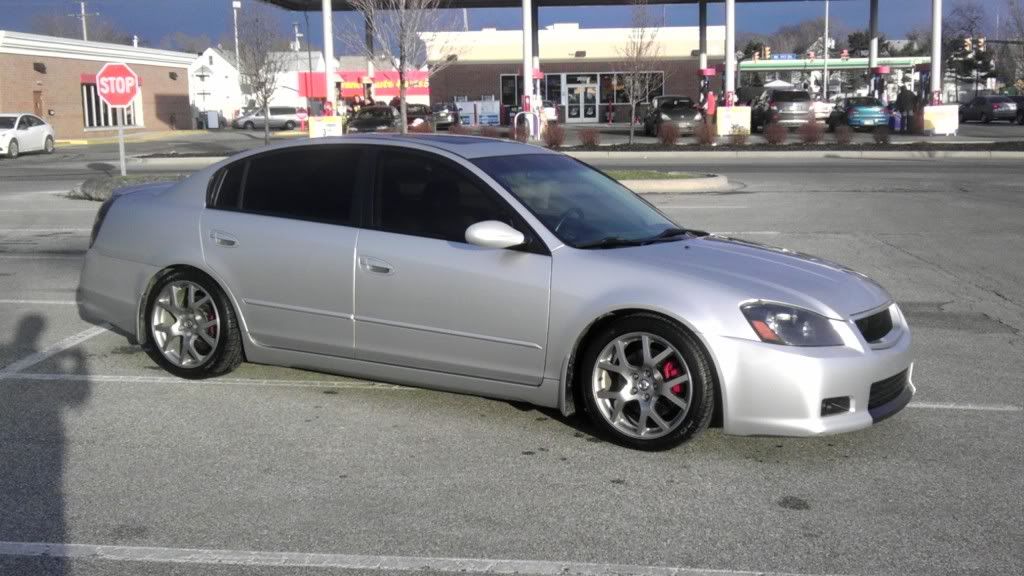 .
.
I know, it's not a TRUE SE-R (but I guess "Altima VE-R" just doesn't sound right)
I have already owned a silver '05 Alty SE-R for a year. It ran solid, no problems, but it was auto (as I bought it for a DD.. hard to find these in 6 speed surprisingly) loved the car. Except for the stupid timing chain guide issues (they break and its a huge pain to fix) and the angle of the motor in the engine bay makes changing six spark plugs an all day affair.
I had to sell the car when I moved.
Some stats:

2005 Nissan Altima SE-R:
Curb weight: 3,279 to 3,326 lbs
Horsepower: 260 hp
Torque: 251 lb-ft
MPG: 20 city / 30 highway

Motor:
VQ35DE
3.5 liter V6 24 valve DOHC

According to Car & Driver:
Zero to 60 mph: 6.1 sec
Standing 1/4-mile: 14.8 sec @ 97 mph
Top speed (governor limited): 141 mph
Braking, 70-0 mph: 168 ft
Skid pad: 0.86g
After driving the SR20's for so long, the low end torque burst was pretty cool. The thing is though, the handling sucks. I mean, it's a damn boat. It has a ridiculous amount of room though as I was able to fit my 6'4" step father in the back seat with 3 other people picking them up from the airport.
Interior is lovely, all leather with heated seats, and I find the dash very easy on the eyes. One thing I didn't care for was the low visibility in the rear window.
.
.
They also come with a BOSE sub/stereo and xenon headlights (which makes a nice difference) and a standard oil pressure, battery voltage, and the (although useless) MPG gauges in the center console.
I made this thread because there is a nice red '06 SE-R M/T 6-speed not too far for a reasonable price and I was going to check it out. In terms of the differences between the 05-06 Altima 3.5SE and the 05-06 Altima SE-R: the SE-R has nicer interior and a more aggressive exterior, higher flow exhaust and aggressive fuel mapping which Nissan says adds 10HP (260HP for the SE-R, 250HP for the 3.5 SE). The SE-R suspension is stiffer, the trans is also geared different for the SE-Rs (manual only)
Anyways.... just wanted to know any thoughts or experiences with these, if anyone has actually had one. Since it appears I'll never find a nice NX or 00-02 G20t (manual trans).. another one of these could be a nice addition.