Home Made Oil Catch Can
So I'm sure everyone has seen this, and its been beat to death on just about every car forum, but I figured I'd post it on this one for shits and giggles. Making a home made oil catch can out of air compressor water filter. Oil catch can for about $10-$15.
All you need is
1. One of those filters for air compressors - which I got for like $6 at Harbor Freight.
2. Get 2 brass hose nipples to screw into the top of the filter based on what size hosing it plugging into
3. Get VITON O-Rings to replace all the rubber O-rings since they are not fuel vapor resistant
4. Some steel scrubbers for filtering
5. Silicon for sealing
Its pretty self explanatory and doesnt really even need a How To, but.........
Take apart the filter
Screw the nipple fitting into the lid, silicon tape helps to be sure of a good seal.
After removing the drain mechanism at the bottom (all filters have didnt types on how they drain) replace any rubber o-ring with a Viton one.
When you reassemble the drain mechanism, use silicon to seal it up nice and tight, we wont be using this to drain anything.
Replace the final big O-ring that seals the clear base to the lid when you screw it back together with a Viton O-Ring
Throw the steel scrubber inside to help filter a bit
Thats basically it. You got yourself a very basic and simple oil catch can. From research it seems to work fine, but I'll update this once I have my own results. Draining the oil is as simple as twisting the base off and dumping it out.
On that Lip on top of the lid is 2 very small threads for screws. This is where you can make your own sort of mount out of sheet metal to mount it inside the engine bay.
Here is a picture of mine, i'm sure no one needs any step by step pictures here lol. The small o-rings can be had in the auto parts store in the "Help" section. The bigger one in the lid though I had to source off ebay, thats where that stack of O-Rings came from. Its like 300 for $9 bucks lol.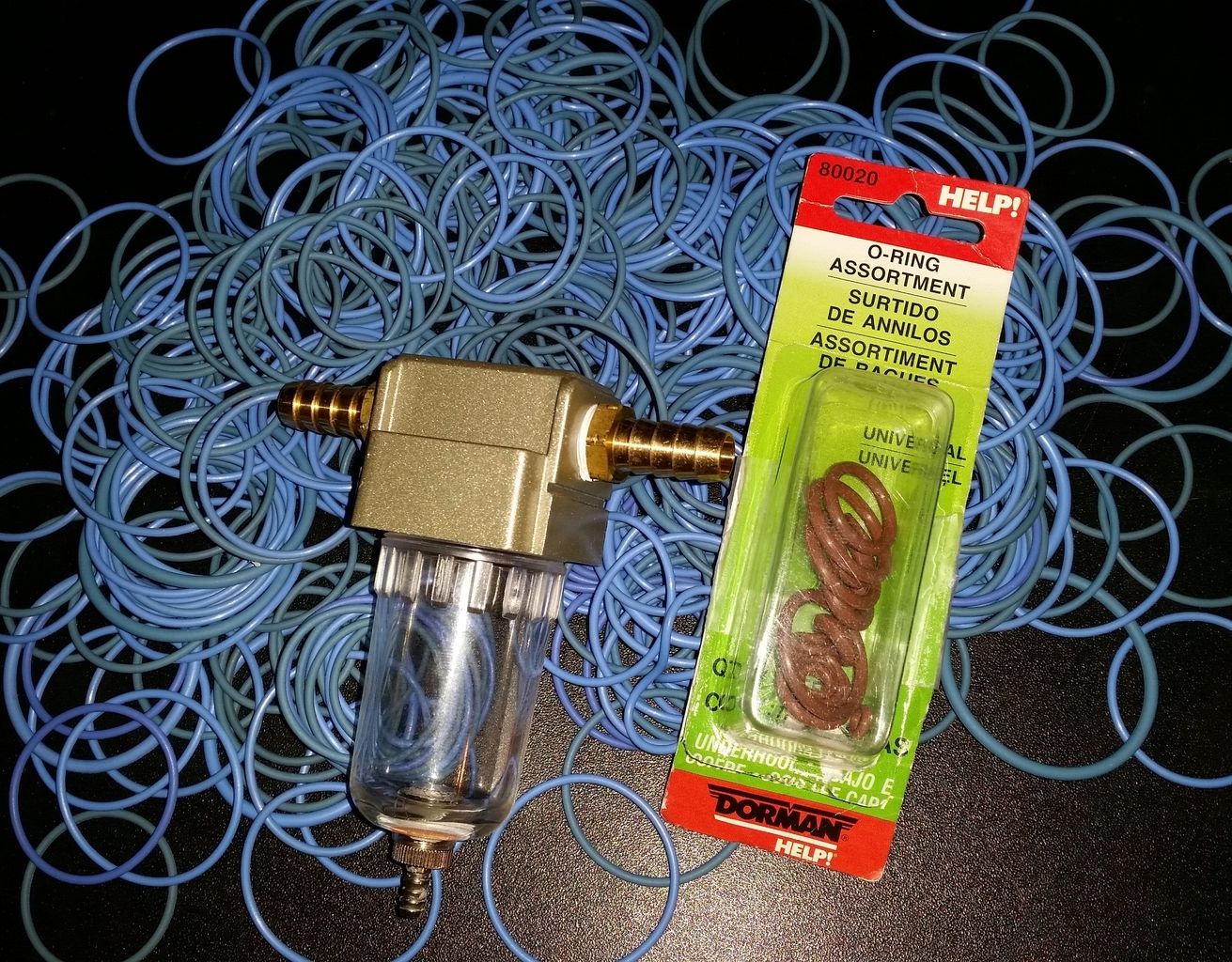 Here is the steel scrubbers i put inside mine (forgot to grab a pic)