Originally Posted by
chriswiss
Originally Posted by
DaveM
Originally Posted by
chriswiss
Originally Posted by
DaveM
The injectors need the resistors as they are low impedance. Are they in fact gtir injectors, Are they top feed? Dave



Yes they are top feed GTIR yellow injectors, so that means resistors are installed and the GTIR ecu is no good? Since the injectors do work with the Avenir ecu and not the GTIR ecu.



I would say that that is a correct assumption. If you know anyone with another gtir ecu test theres to see if it starts your car up. Is there anything that looks like this in around the engine bay.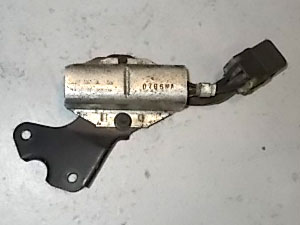 . That's the oem gtir resistor box. Dave



Unfortunately I don't know anyone with another gtir ecu in my area. The resistors box would be around the injector harness no? I haven't seen the resistors box in the bay but I will take another look after work. I removed the tape from the injector harness and saw where they spliced but no resistors are wired in as well.



- - - Updated - - -



I appreciate your help Dave.
I can assure you that you do not need resistors.. I have a GTIR on one of my cars and I do not run resistors with the stock GTiR computer.. if you run the stock gtir ECU you will not need the resistors ,But any other ECU I've never tried so my guess is that you do because Of It Being a high independence Ecu... more than likely The ecu is toasted if it starts with the Aveneir Ecu.. also what air flow meter are you running??
you have to run the 54C00 with thE gtir ecu.. I do believe that the aveneir ECU uses the same one though..