New Tune Results not Bad....
So i have been out of the game for a while, i thought of selling my car a few times, i hadnt driven it in a while, it needed alot of work, like drivers side wheel bearing,drivers side axle,brakes all around,new rear Brake Calipers,new transmission fluid,oil change,ect basicly ALOT of stuff. and last summer i got it all down and done...however it didnt leave me any room for the much needed tune i have needed since AT LEAST 06.
the car had been tuned in louisville at automotions for a baseline tune, it really needed to be tuned after that tune it was on 7lbs, and there really wasnt good drivability with it.
then i took the car to Autolab in louisville and they did a hackjob on the tuning, there was absoloutely no driveability, idle was jacked up,there was lean spots rich spots, places that completely just cut out alot of breaking up, up top...i put my trust in those people that i could just drop it off and be done and pick it up and it was great....actually no i left with a 4k idle! and they didnt care to even try to say what was causing this issue that i had, poor service all around. my fault for trusting them.
i had really put my car on the shelf, i knew i didnt want to sell it come hell or high water, but at the time i has sunk over 1k between 3 bad tunes and a distributor.
cut to summer of 2012 i did all the work listed above, and it was all in preperation for a full tune. i also bought some 17'' rota tarmac's and a set of nexen n5000, then i had to do 10mm rear spacers, extended lug studs and extended lug nuts..
3/5/2014
SO FINALLY I had EVERYTHING i needed done in preparation for tuning. long long list, got everything down....took my car to the local shop ZEROLIFT they are located here in cincinnati ohio. they were super stand up guys, friendly, gave me constant updates on what was going on with the car.. it came into some unforseen things like needing a wire taped up, and it needed a wastegate dump tube (it needed that forever) so no big deal. they got it on the dyno and it started blowing off cold side intercooler piping, so they called me up and needed the go ahead to weld in place a aluminum 3'' 90 degree pipe where it kept blowing off to make it a one piece and be done with the coupler and clamps. the day ended with it strapped down to the dyno and ready to go on 3/6/2014!
3/6/2014
Car got a full AEM EMS tune the whole 9 yards, Dave Blundell tuned it, i was told the car was decently frustrating, however everything went off without a hitch. a couple of things i emphasized was Idle, and driveability, those were the 2 main things i was concerned with i really didnt care how much power the car made, i just wanted a car that i can drive 2 miles a hour without it bucking or stalling ect.....dave got it down completely i was driving the car at a creep and it doesnt buck stall or nothing, runs much like a stock car would....i told them i wanted the car tuned at 20/22psi max....i could have gone a little more 24psi, but i kept it a little conservative.
The car at 20psi Made 321.69WHP & 312.42WTQ I really didnt have any kind of numbers in mind. the tuner said the car really needs a upgraded ignition system, as the ignition system was pretty much limiting the power they gapped the plugs down to 20 thou,also the hotside of my intercooler setup is 2.5'' i really feel 3'' hotside would improve flow as the cold side is all 3'' however the intercooler has 2.5'' in and out so a upgraded intercooler with 3'' in and out might be in the works.....the powerband is excellent on the highway it feels like all the power is right there at your foot, theres no lag at all and from what you can see on the dyno graph the horsepower pulls till redline and doesnt really fall off
also the air fuel ratios are nice and smooth, i think that says alot for dave blundell he really knows what he's doing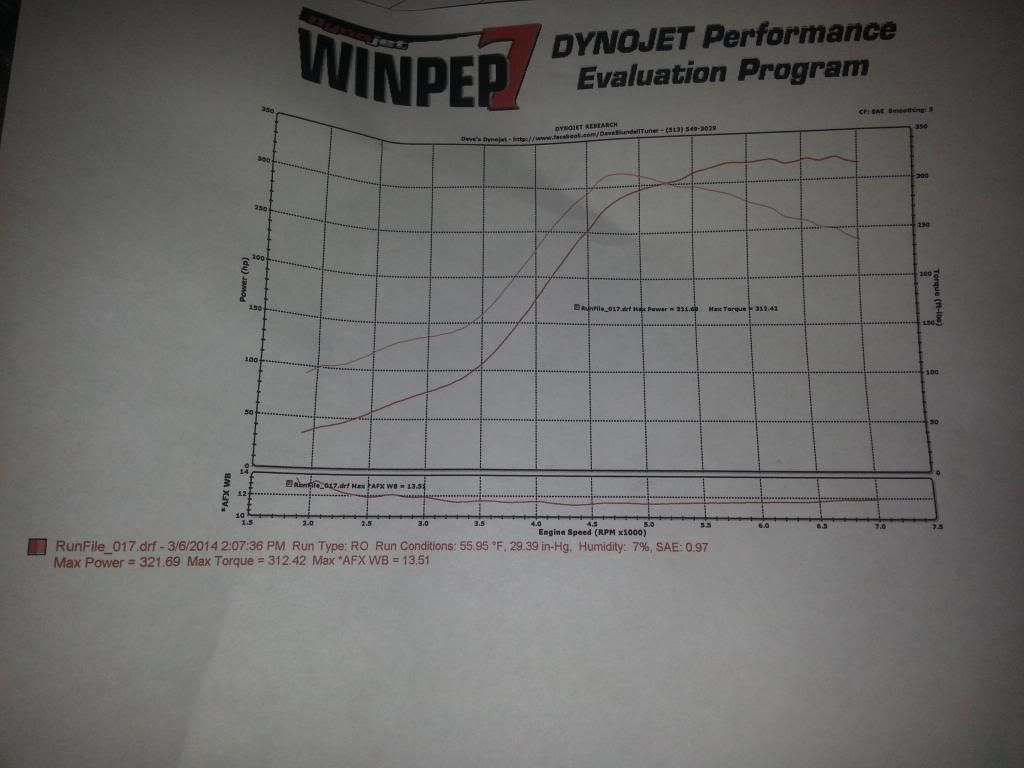 Exhaust note.