Moving radiator forward on NX
This is want ive been researching in the hopes of moving the radiator into the area the A/c condenser used to be.
It would require a remote located filler tank (connected by AN line)
and extention tabs added so oem mounts can be used
possibly different rad hoses.
But i believe I can gain up to an inch of space b/t rad and turbo.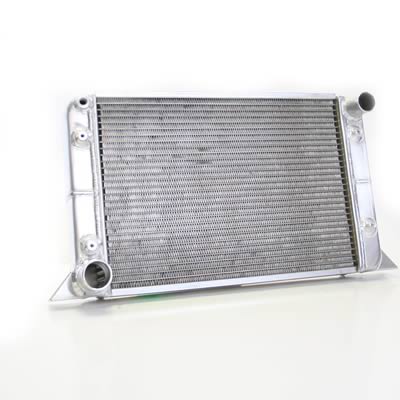 Radiator Style Crossflow
Overall Width (in) 22.000 in.
Overall Height (in) 13.000 in.
Overall Thickness (in) 2.000 in.
Row Quantity Dual-row
Radiator Finish Natural
Radiator Material Aluminum
Transmission Cooler No
Inlet Location Upper passenger side
Inlet Size 1 1/2 in.
Outlet Location Lower driver side
Outlet Size 1 3/4 in.
Core Height (in) 13.000 in.
Core Thickness (in) 2.000 in.
Core Width (in) 18.000 in.
Tube Size 1 in.