20V Transmission 6 Speed Flywheels
JWT 250mm Flywheel
The JWT flywheel had the face that was hanging out past the ring gear. The picture below shows the JWT flywheel with the side already machined but it still hangs out past the ring gear. The silver aluminum side of the flywheel is what touched the inside of the bellhousing by the stater. So you would have to grind out the bellhousing until there was a hole.
JWT tried to make this flywheel to fit both the S15 and P12 trans but it only works properly on the S15 and not the P12.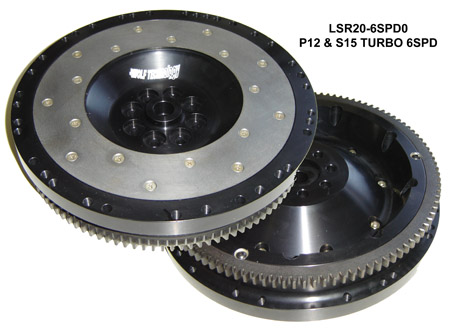 JDM NISMO Flywheel & Clutch Cover S15 SR20DET TOMEI
Here is a picture of the Nismo Flywheel for the S15. This should be a 240mm clutch setup. As seen in this picture the ring gear hangs out past the flat surface of the flywheel. It seems this flywheel would work in the 20V trans but I am not 100% sure. I would say 85% sure.
Even after shaving down the side of the JWT flywheel it still sticks out past the Nismo verison.
Mazwork 215mm 6 speed flywheel.
This flywheel seems to work but it is only good for NA use or use up to 450 WHP. If this flywheel was made 225mm it would have worked for both turbo and NA aplications
If the 215mm Mazworx flywheel is 10 pounds, then a properly made 225mm 6 speed aluminum flywheel should way about 12 pounds