Beware! Of this crook beware! 96FearlessSER
Been wanting to daily my nx and a sr20ve was a perfect fit for my needs sawajan option of ordering from ebay a clean engine but then a closer opportunity came along of a local sale that poped up that i bite the bullet for a 840$ "clean reliable daily since the owner had it running and only put 1400 miles since swap , that mention he worked for a napa shop "well oriented mechanical speaking so i trusted the the guy and even offer to pick up the engine 3 hr drive that i spend money for my ride and all that crap, guy offered to give the vvl switch that never gave me, went down early morning picked up engine on an pretty scketchy napa maintenace car shop ,checked it rotated good so i didn't even bother to open up or anything loaded it up on my buddies crx paid in cash 840 and left back home,
On my way home i kinda felt ripped off for some reason but i said oh well its gonna be worth it at the end its not like a ripp off ill be good , unloaded engine put it in a stand and start to clean her up ,check sensors, check timing ,replacing seals and all the things one do before a swap ,popped up valve cover and "BANG MAFACKER RIGHT IN THAT PSY" DIRTY , FILTHY SLUDGE ,TIMING WAS NOT SET TO TDC, Shit loada bolts missing no sensors, it seemed the closer i paid to details the more i found, i got scared when i saw such a bad condition this is on text the crook and he said it was running good
it looked ok from the outside
NOT BAD FOR 1400 MILES AND OWNED BY A MECHANICAL ORIENTED GUY THAT DOES THIS FOR A LIVING
Trying to promote and help local guys specially from same forum and this is how they pay you "i never opened the valve cover" he didn't know the condition of inside but HOW THE F IT HAS A NEW VALVE COVER SEALS AND BLACK SILICONE? ? ?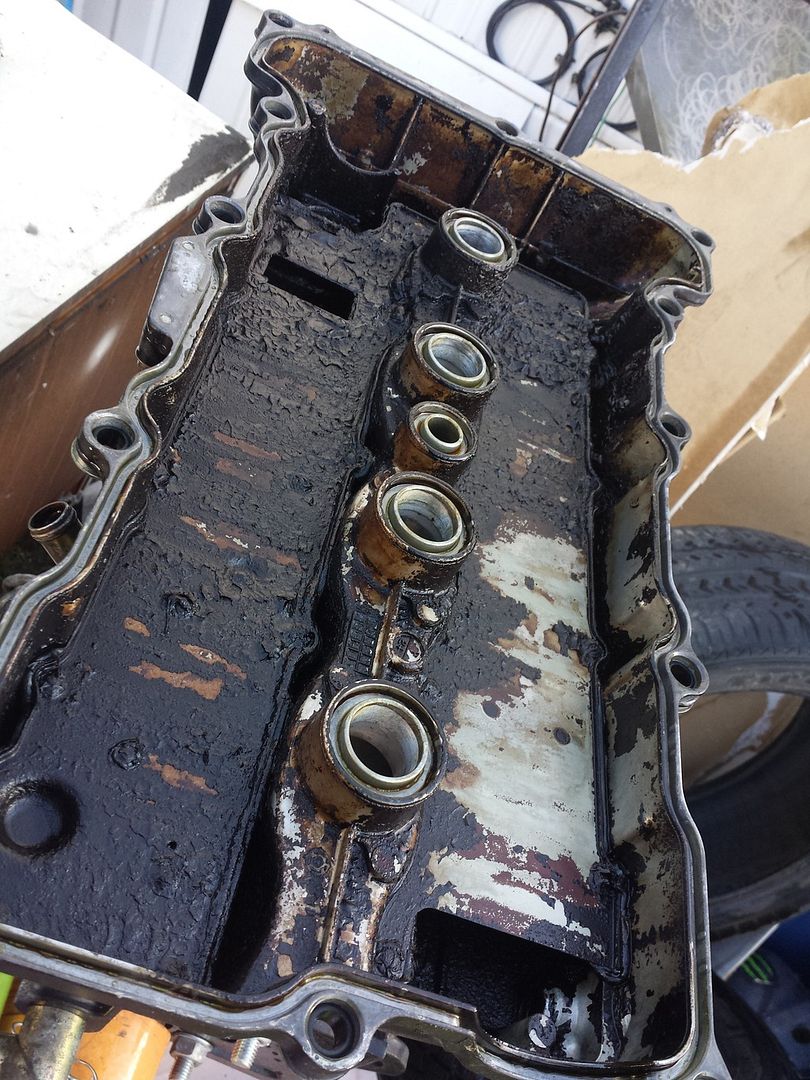 Spend couple hrs trying to get as much as i could clean pan really well from thick wall of sludge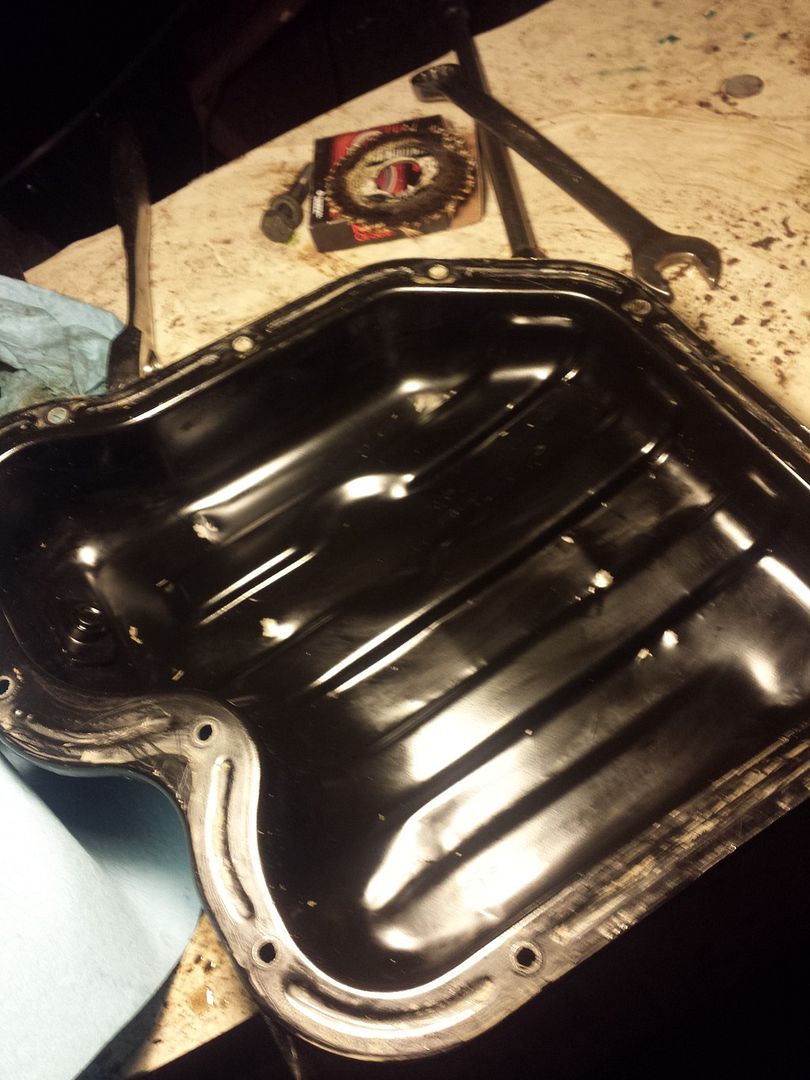 Never seen this crap been in the sr game since 2007
I mean i tried to check but i cant check every aspect of an engine when in 130minaway from home so i popped chaing tensioner and it was a mind blowing of how sludge can destroy an engine "tensioner it fully unclipped, the pin its off and the trigger it up and still stuck!
how does a "mechanic" that does this for a living cant even check for
Pulley was way off , i dont even know htf this crook mechanic ever got this thing to run or to set timing not to mention the chain had skipped few tooth pretty sure since the tensioner got stuck at some point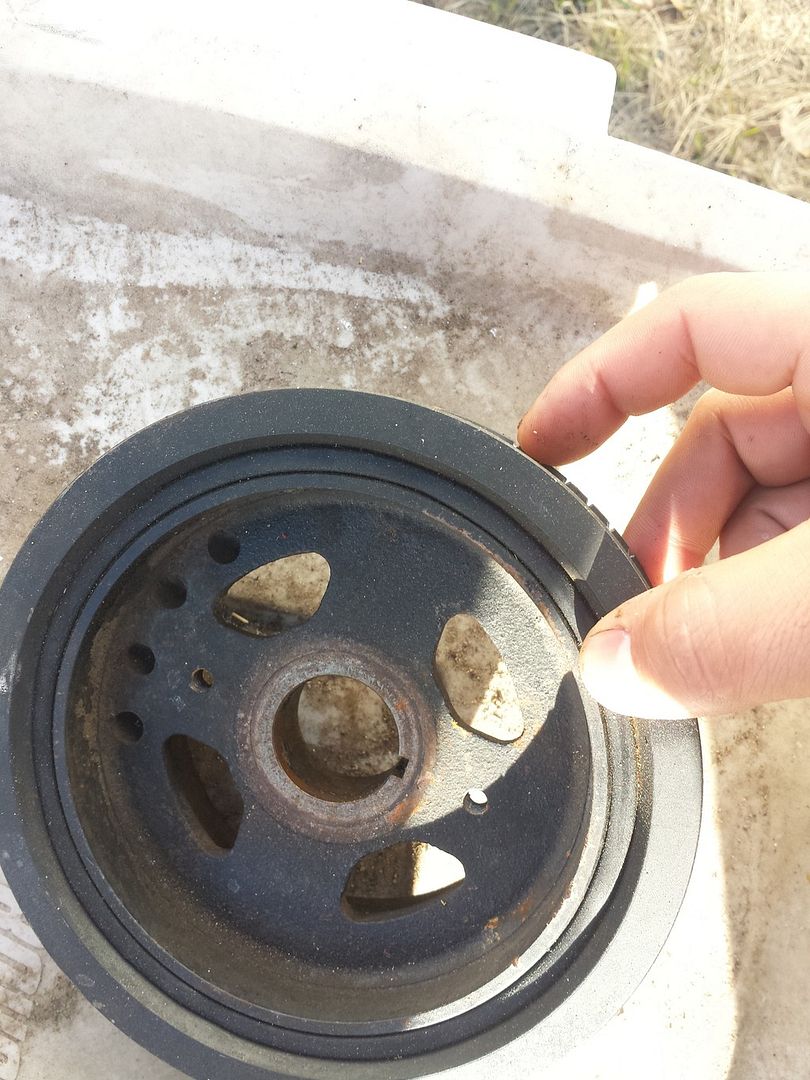 Bottom line since i got no response from this person i decided to test my and go withmy gut of putting it last weekend as planed and hoping with pretty low oil changeintervals eventually this sludge nightmare will eventually will go away so set up my timing with corrected vet crank pulley i took all main caps and oil squirters and clean pretty good and put everything back together, replaced main seal, added fresh oil did engine swap it fired right up, ran it on idle for about 30 min and added seafoam on oil did another oil change and wired up msd box and this time i took it to around the block and as soon as i hit 4700rpm when vvl engaged oil light came on dash , i was like wtf so i bust a uturn right away took it home on literally idle speed and car shut off on my drive way i restarted the car and pulled up closer to my driveway, with noticeable knock , woke up sunday morning and crossing my fingers did another oil change this time full sysntetic started engine and gave few revs and engine seized.