Still hope for a naturally aspirated DE in a Turbo & VE world :D
First off I want to give thanks to some folks:
- Charles for the Squiggly custom header, the VE intake manifold idea, and a built SR16 block
- Bryan, Ben, and Chrys for assembly (twice) and new engine assembly/install
- and of course to Jamie for an awesome tune to be able to bring it all together
The original lowport DE in the Panda already had a DPR stage 3 head, JWT S4HL cams, Squiggly 4-2-1 header, and a 2.5" custom catback at this year's convention. Was a blast to drive, ask anyone who caught a ride in Ohio. Post convention, Charles suggested to me the idea that a VE intake could be fitted to a lowport head to broaden the torque curve and improve overall breathing. He cut and welded a lowport flange onto a VE manifold for me. Bryan, Ben, Chrys, and I did the install of the manifold with the help of a Thermoblock spacer. Ben used a Dremel tool to reshape the inner edge of the spacer to smooth the transition between VE manifold runners and the ported lowport head. Sadly, 2 days after we completed the install she shat #3 bearing which is not exactly new ground around here. Once I got over the depression of rod knocking the original DE it was time for a rebuild.
I picked up an SR16 short block from Charles that had the main bearing caps modified to utilize GTiR bearings and receive 360* oiling. It had a 4cw 2.0 VE crank and rods as well as SR16 pistons for a healthy bump in compression. The block also had the VE oil feed tapped and capped so a lowport head could be bolted on. Bryan and Chrys pulled the blown up DE and assembled new engine. Head was disassembled and ultrasonically cleaned to be sure any bearing metal shavings were eliminated. As a precaution, I upgraded to Greddy valve springs which should give a safety margin to at least 9000 RPM. However, it really isn't necessary to wind it out. In fact, our results were quite satisfying: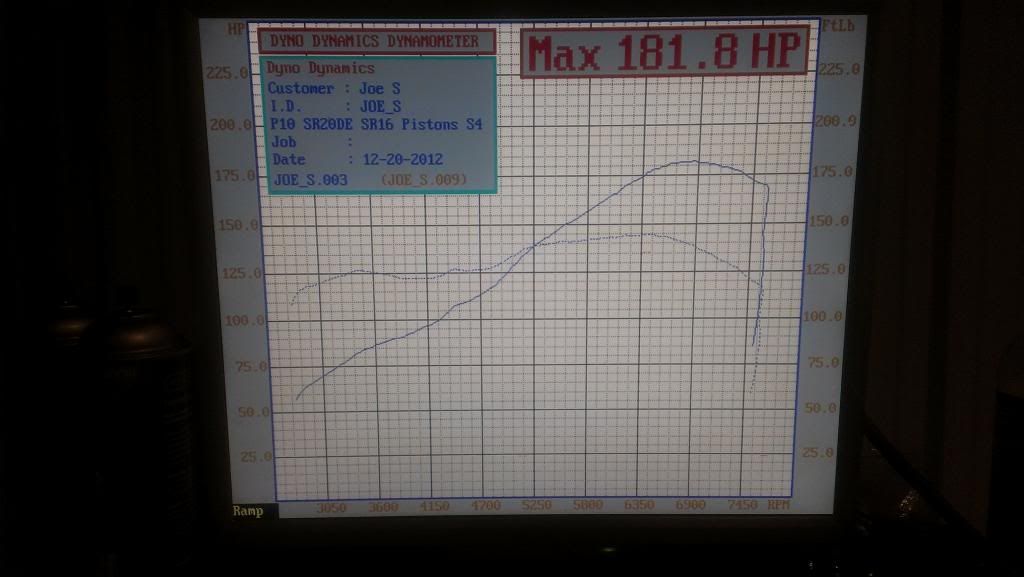 Jamie tells me that the RPM readings across the bottom of the graph are off by about 300, so 4700 is actually 5000 etc. She is pulling over 140 ft-lbs tq from 5500 thru 7100, peaking at about 146. Peak power hits just before 7200. Holds 175+ hp from 67-7700. Driveability is just short of phenomenal.
At about 5500 she hits like a VE and from both in and outside the car sounds like one. Both Jamie and Rocco noticed it as did I. We later pulled up a couple stock cam bolted on VE graphs for comparison. Panda makes more power and torque till past 7000 and even then only gives up 4-5 Peak.
It wouldn't be close
Mods List:
SR16 Block
Mains 360* oiling with GTiR bearings 1 grade loose
SR20VE 4 cw crank & rods
SR16 pistons
DPR Stage 3 lowport head
Updated stock lifters
Stock valves and retainers
Greddy valve springs
JWT S4HL cams
VE intake manifold with lowport flange
Thermoblock spacer set
Lowport DE throttle body
VE intake tube
N60 maf
JWT popcharger
333cc VE injectors
Calum Realtime
GSpec water pump pulley
Squiggly 4-2-1 header
Stock cat
2.5" catback with Apex-i Muffler
Jun flywheel
JWT pp & B15 disc
SR16 touring tranny (has P10 5th gear)
At this point the stock cat and 2.5" exhaust are certainly the choking points.