SR20 West Coast Convention 2014 in Kern County, California
SR20 West Coast Convention AKA WCC
Kern County, CA
November 7th & 8th, 2014
Hosted by:
Raul Fileto
@OptimumSE-R
Charlie Barnes
@zerogravity
Andy Villalobos
@Socius
Event Staff:
Marcus Mateus
@manjuice
Ray Garcia
@Ray
~Jay
Happy to announce the 2nd annual SR20 West Coast Convention in Kern County, Ca! Last year's WCC was an amazing time. We had 2 and a half days of sr20 fun with a track event at World Famous Willow Springs International Raceway @ the Streets of Willow track in Rosamond, Ca. followed by 1/4 mile drag racing at Auto Club Famoso Raceway in Bakersfield, Ca.
For those of you who want to check out last year's WCC, click on this link.
http://www.sr20-forum.com/california/68394-sr20-west-coast-convention-kern-county-california.html
Video from last year, too.
To sum up what the SR20 Convention's are about with one word,
PEOPLE
. The people share one thing in common with you and that is the sr20 platform vehicle. B13/B14/B15/P10/P11.
Initial schedule:
Thursday November 6th
Travel day and Meet and Greet
We are pleased to announce the Hotel for our stay during SR20WCC is
Embassy Suites Palmdale
39375 5th st. W
Palmdale, Ca. 93551
The Embassy Suites offered us your choice of a 1 King sized bed or 2 Queen bed suites with pull out couch. Free cooked to order Breakfast from 6am-9am and Complimentary drinks from 5:30pm- 7:30pm. The hotel also offers a 24/7 fitness center and a 24/7 Business center. The hotel is located right off the 14 freeway. There is plenty of parking especially for those trailering their cars.
Price is set at $109 a night (plus tax).To get the special group rate, please mention Group Name: SR20WCC
Please call 661-266-3756
You will need a valid credit card to book your room.
Check in time is 3pm for
November 6th-7th, check out time is 12noon Nov 8th.
Group cutoff date: Thursday October 16, 2014
Group Cancellation Policy: 24 hours prior to arrival date to avoid any cancellation fees (this would be one nights room and tax)
Hurry up and Book!
For those that want to stay at a hotel in Bakersfield after the awards/dyno, I will be blocking off some rooms at the closest hotel to VL Speed. I will be heading up there in the next couple of weeks. This will be for the night's stay on Saturday Nov 8th.
Friday November 7th
We will be having our track day at Willow Springs International Raceway
Willow Springs International Raceway | Since 1953
Willow Springs has several tracks and we will be racing on the
Streets of Willow Road Course
This year WCC will be special. We rented out the track all to ourselves which we are very excited about. Again, the main factor of this event is to unite all the sr20 community from the Western side of the country and encourage everyone to come out and race or just simply be apart of this event. Please be respectful of your peers, track employees and everyone in between. We want to make sure we keep things family oriented in the track to keep positive vibes all around.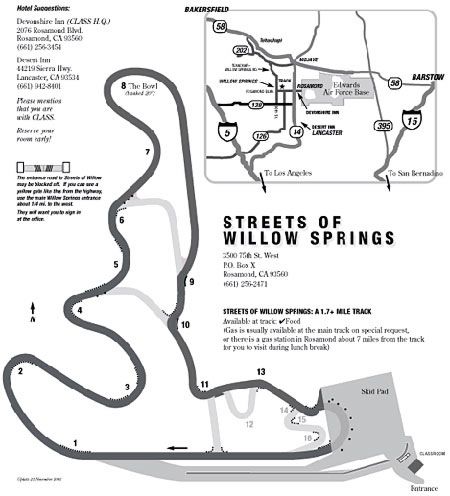 Streets of Willow details are as follows:
$130.00 per driver.
$20 transponder and lap timing
$150 total
Tech Inspection
at the track will be done at 7AM prompt
Followed by a Mandatory drivers meeting at 7:30AM
Track will be open from 8am-5pm for the first class and followed by the consecutive classes (beginner/Intermediate/Advanced).
We will race in Clockwise fashion
- 5 to 6 - 20 minute sessions
-
HELMET is REQUIRED for ALL DRIVERS AND PASSENGERS (RIDE ALONG WITH INSTRUCTORS)
ANY RIDE ALONG MUST BE DISCUSSED WITH EVENT HOSTS AND OR DRIVING INSTRUCTORS. (NO EXCEPTIONS)
DUE TO SAFETY ISSUES WE WILL ONLY ALLOW RIDE ALONGS WITH DRIVING INSTRUCTORS.

TECH CHECK LIST:
Battery is safely Secured.
Wheel lugs and nuts must be complete and not broken
Center wheel caps must be removed
NO Oil,Coolant (water),NO other Fluid leaks
Seats MUST be bolted on completely (NO EXCEPTIONS)
Seat belts are PROPERLY Working. (NO EXCEPTIONS)
Cabin and Trunk must be emptied out of any objects that can fly around inside the car.
We will have food available for all event attendees, we are also taking donations wether it be money, food, snacks and liquids such as water and soda. If you would like to donate, please post here what you can bring or pm me with any questions and comments.
Saturday November 8th
Test and Tune at Auto Club Famoso Raceway in Bakersfield, Ca.
Auto Club Famoso Raceway
-1/4 mile drag strip
AUTO CLUB FAMOSO RACEWAY
Saturday, November 8th, 2014.
Test and Tune
Price: TBD
YOU PAY FAMOSO RACEWAY FOR ENTRY
Gates Open @ 8am
Tech Inspection @ 8:15am
Racing starts @ 9:30am
Racing ends @ 5pm
This year, we will require all drag racers to enlist with us for the event. We are not charging any money for this but want to keep a list of people and their vehicles and classes. If you want to sign up, post up in this format:
Forum name / Full name / Chassis / Forced Induction (specify turbo or nitrous) or Naturally Aspirated.

RUN WHAT YOU BRUNG!
The Picnic/Car show will also be at Famoso Raceway.
Awards:
Best B13 Sentra
Best B13 NX
Best B14
Best P10
Best P11 ( In observence of our fallen brother Dema)
Farthest Driven
Iron Man award ( participation of both events and driven not towed)
Best lap time FI
Best lap time NA
Best 1/4 Mile time N/A 1st, 2nd and 3rd place
Best 1/4 Mile time Forced Induction 1st, 2nd and 3rd place
Matt Kempe award ( In observance of our fallen brother Matt)
More TBA
REGISTRATION FOR STREETS OF WILLOW IS NOW OPEN!!!
Please make payment via paypal at [EMAIL="sr20wcc@gmail.com"]sr20wcc@gmail.com[/EMAIL]
(Track day Nov 7th Streets of Willow $130.00 plus 3%paypal fee)
No refunds for streets of willow. In the event you can not make the track day, please contact me directly. You can sell your spot to another person but we need to be notified. Thanks!
Please don't hesitate to contact the event hosts with any questions you may have. We will try to answer any technical questions to the best of our abilities and answer any general questions. There are a couple of methods of contacting us. Email or PM preferred @ [email]sr20wcc@gmail.com[/email]
Streets of Willow PAID list:
Beginner Group:
1. Jonadrizzy - Jonathan Nerio - B13 - TRANSPONDER
2. Super Sergio - Sergio Rodriguez - B13 - TRANSPONDER
3. BmexicanG - Steve Alvarez - B13nx - TRANSPONDER
4. PonyboyNX - Victor Garcia. - B13nx - TRANSPONDER
5. Socius - Andy Villalobos - B13nx TRANSPONDER
6. Pascual - Pascual - B13 - TRANSPONDER
7. LerkZone - Frank Pavon - P10 (for real this time)
8. KLUTCH - Patrick Davis - B13 - TRANSPONDER
9. sr20uly - Ulysses Fileto - P10
10. Edwin - Edwin Analco - B13
11. Cesarin_ser - Cesar De La Torre - P11 - TRANSPONDER
12. trbobrk - Colin Gillespie - P10 - TRANSPONDER
13. sixnineG - Jorge Meza - P11
14. circa. 13 - Mike Gonzalez - B13NX
15. Rachel_B13 - Jesus Garcia -B13 - TRANSPONDER
16. J-tek - Paul Brondial - P11 TRANSPONDER
17. Augy - Augustin Soto - P11
18. akuma810 - Norman Dao - P11 - TRANSPONDER
19.
20.
Intermediate Group:
1. 94_jdm_ferio - AJ Austin - P11 - TRANSPONDER
2. SE-Rgio - Sergio Quin - B13 - TRANSPONDER
3.Nxsrg20 - Christian Estrada - B13NX - TRANSPONDER
4. tdtank59 - Trevor Kensiski - P10 - TRANSPONDER
5. MexicaliTires - Martin Chavez - B13 - TRANSPONDER
6. Shingouki1 - Juan Ramirez - B13 - TRANSPONDER
7. Adrian Z - Adrian Zuniga - B13 - TRANSPONDER
8.
9.
10.
11.
12.
13.
14.
15.
16.
17.
18.
19.
20.
Advanced:
1. Cavern. - j0n v - P10
2. Shaggy - Chris Allen - Ford ST
3.
4.
5.
6.
7.
8.
9.
10.
11.
12.
13.
14.
15.
16.
17.
18.
19.
20.
Mixed Run Group
1. Lou831 - Luis Tinajero - s14 - TRANSPONDER
2.
3.
4.
5.
6.
7.
8.
9.
10.
11.
12.
13.
14.
15.
16.
17.
18.
19.
20
Let the builds begin!