How to install TDMimports Bump Steer Kit
One of the new products from our buddy
@b15azn
is this bump steer kit
It's available for quite a few models, just shoot him a PM.
---
Before getting into the 'how to' I wanted to show some pics of how the kit fits/sits once installed; as some people said that this design is unsafe supposedly because of a lack of thread engagement, which I see no evidence of at all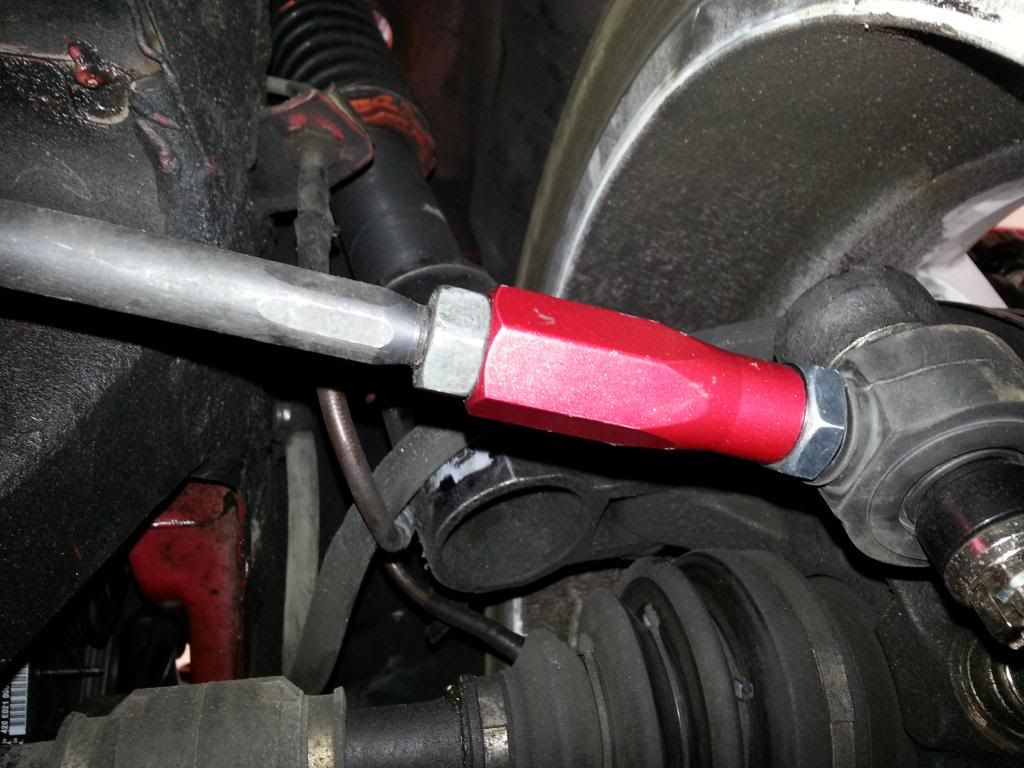 ---
Before
the bump steer kit the height of the tie rod, in accordance to the control arm, at the spindle was 7" yet at the inside part of the control arm was only about 6"
After
the installation of the kit at both the spindle and the inside of the control arm was 5"
---
What you'll need for this kit's installation:
- Jack
- Jack stands
- 23mm wrench for the body of the kit
- 21mm wrench for the jam nut
- Whatever tools you need to remove your wheels and old tie rod ends
1)
Lift vehicle and set it down securely on jack stands
2)
Remove wheels to access the tie rod ends
3)
Remove old tie rod ends but leave the old jam nuts on the inner tie rods, just to be safe if you'd like (I did).
4)
Now simply screw in the body of the kit, with the outter bearing still attached, onto the inner tie rod.
Something to note though is that kit comes with two spacers. The black one, which is built into the bearing, and a smaller silver one.
The purpose of these are to level the tie rods at whatever height your vehicle is.
Silver on top for slightly lowered, black on top for a more aggressively lowered vehicle. It'd doubtful that any more than that adjustment is needed.
5)
Here's the tricky part. The bearing has zero play in it, so getting the alignment rod through both the spindle and the bearing can be quite difficult.
What I found that works best is lifting up the spindle and control arm, with a jack, to be parallel to the tie rods. This way you can insert everything easily and quickly.
6)
Tighten the nut on the alignment rod as much as you can, of course within reason, and insert the cotter pin.
7
) Put your wheels back on, set your steering wheel straight and eyeball the alignment. Put the car on the ground and then go get a proper alignment done.
After you'll be able to enjoy the much tighter turning radius and much more responsive steering, as well as getting rid of the bump-steer on your lowered car
Enjoy!