1998 National Convention - Costa Mesa, CA. June 20 & Cypress, CA. June 21
With
http://www.sr20-forum.com/california/68394-sr20-west-coast-convention-kern-county-california.html
just days away, I thought I would jump in the Delorean and go back in time 15 years and visit the 1st Anual SE-R.net / SR20DE.net convention. Thou a majority will not remember these pics, I'm sure a certain few can look back with very fond memories. Pictures and link courtesy of SE-R.net.
To remember where we came from to where we are today.
National SE-R Meet Page '98 Pictures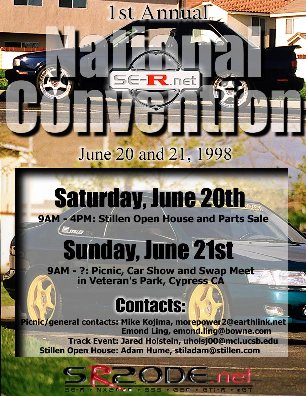 Thou I will not be bringing the same car as 15 years ago, I will be there. I can't wait to see a few old faces and meet many more new ones.