Western States roadtrip to Convention...
Me and a few of the socal guys are planning on driving up to the convention. We were looking at options on exactly what to do to get up there. First, was transporting using a transport company. Second option was to drive. Last resort is flying. I really want to take my car to be apart of the convention the right way, with my car because it is a Nissan convention.
Anyways, anyone from the western states planning on making the drive? If so, maybe we could meet up at some place and have a more safer and secure roadtrip. Not to mention how cool it would look pulling up with a few more cars then just the normal 2-3.
ALSO we need to agree on a date to make it happen. Convention runs from June 3-6. Keep in mind it is aprox. 28hr drive.
Registration for the event here:
http://www.nissanconvention.com/registration-form
Hotel Info quoted from the site: They offer another hotel but we dont want to stay there.
This year we have two options for hotels. As with many of the past conventions, we will once again be returning to the Embassy Suites for our main hotel. The rate is $119/night, regardless of the number of occupants. If you are unfamiliar with the Embassy Suites and the price seems steep, here are some of the big advantages that make this one of the best deals:

Complimentary cook-to-order breakfast each morning
Manager's Reception every night with complimentary drinks
All rooms are suites, and include either 2 Queen beds and a pull-out sofa, or 1 King bed and a pull-out sofa. This means you can split the cost between 3 people and still have your own bed.
Complimentary shuttle service to the surrounding area
We have a meeting room reserved that will be used for a meet & greet as well as a pre-race day voluntary driver's meeting. This meeting is highly recommended to those who are participating in a track event for the first time.

This is my route: Approx. 1575 miles, 1day and a couple hrs.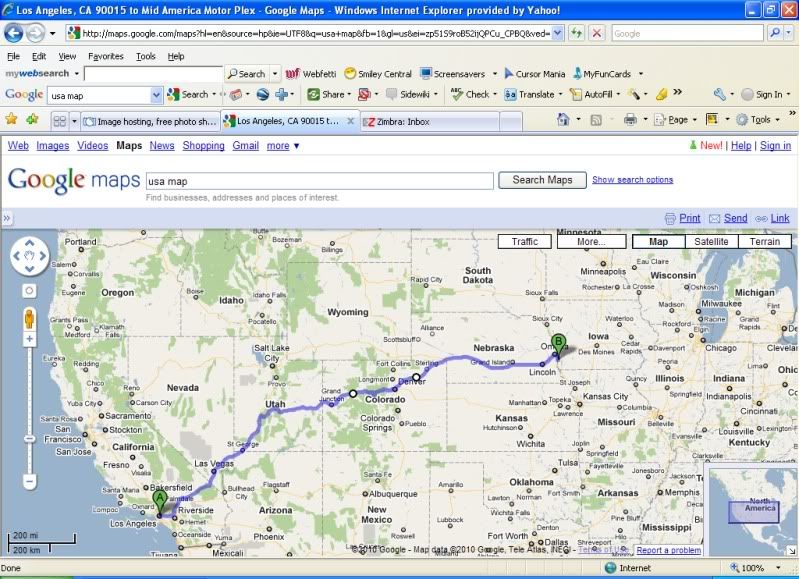 Here's a list of the members making the drive so far:
1. Myself
2. Cesar D
3. sr20uly
4. Mr. Sleeper
5.
6.
7.