FS: S13 suspension, oil pan
Couple things for sale, locally, to try to avoid shipping:
1. S13 240SX suspension. Was on my coupe for roughly 9k miles, so plenty of life left.
-KYB AGX adjustable shocks/struts. No leaks I can find, and I only ran them on 2 front and 2-3 rear, never set them stiff. They should last a good long time.
-KGMM S21 SuperSport springs (yes, KGMM is the brand name). These are high-quality Japanese-made springs, fairly uncommon in the US. I've only ever seen a few sets for sale on Ebay or Zilvia. Rates are 4.6 kg/mm front, 3.8 kg/mm rear. MUCH stiffer than Eibach, Tein, whatever, the only stiffer coil springs for the 240 are RSR. It's not intuitive, but this actually contributes to a higher ride quality.
-Front setup comes with Koni bumpstops. None on the rear, sorry.
Price: $400.
I feel this is reasonable. A new set of AGXs is $450 minimum and probably more; the springs often go for at least $250, used.
I cleaned up these items before taking pics. What looks like dirt is actually overspray from when Painter's Lane painted my car. What looks like duct tape is duct tape
When I installed these, I was still also running a B13 Sentra, which has rubber on the upper and lower spring perches. I though that the rubber on the 240 had disintegrated with age, and used the tape to keep it from being noisy, before I learned that the 240 just doesn't use anything there.
Here's the nice part - at static length these springs are not long enough that you need to compress them. Bolt on your upper mounts, bolt it to the car, and drive away. I have front upper mounts I can also provide for an additional cost, but I don't have any rears to spare right now, sorry.
Pics:
Front:
Rear:
All:
Ride height with KA24E: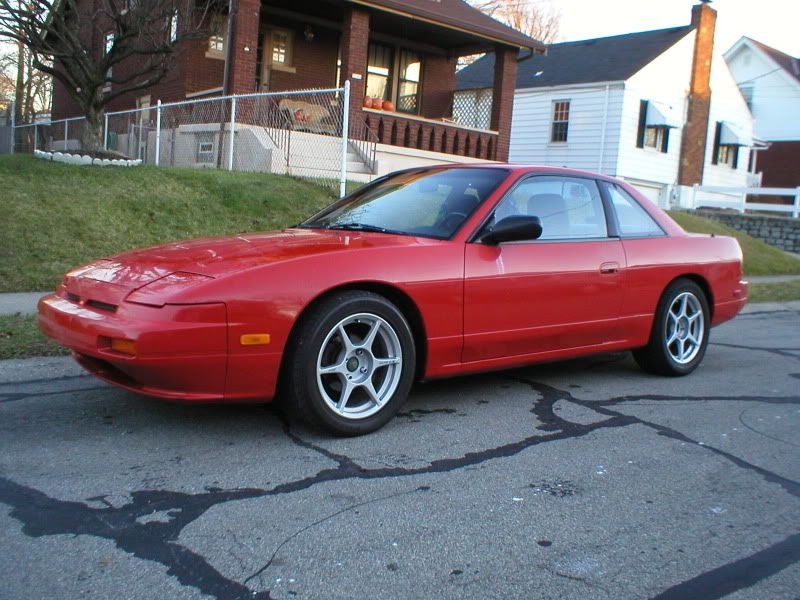 Ride height with SR: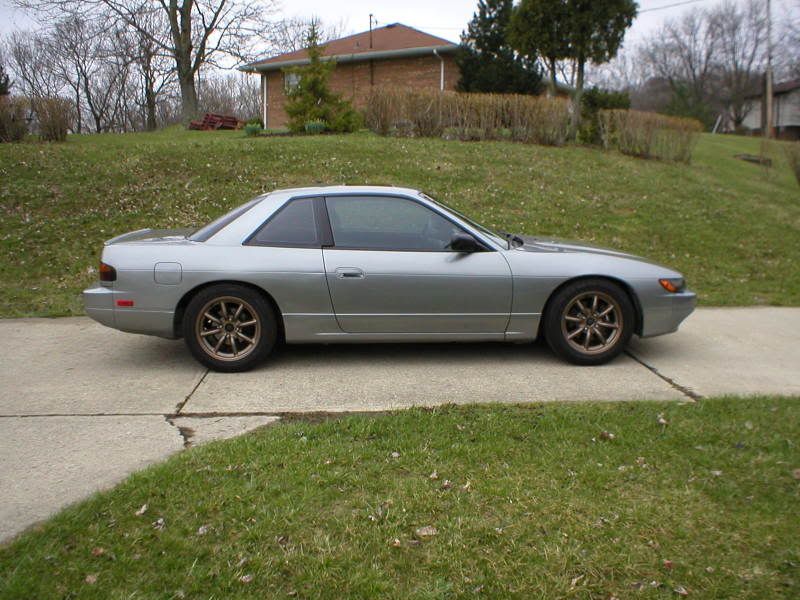 Wheels in all pics are 16 inch.
2. Greddy ripoff big oil pan for S13 or S14 SR20DET. That's right folks, it's a fake. However, it's never leaked, never caused a problem. Comes with the hardware pictured; goop it up with RTV and slap it on. Includes a drain plug (it's an Allen plug with some kind of tapered pipe threads) but I do NOT have a 1/8NPT plug for the sensor port, you'll either need to run a sensor or find your own plug. Has the hinged baffles inside to keep oil by the pickup. I ran this for over four years, had it off and back on a number of times. It's painted with 5-7 coats (can't remember) of 500 degree primer, silver, and clear.
$50 and it's yours.
Please PM if interested. I'll meet within an hour or so of Cincinnati, otherwise you pay shipping.