Where would you most expect to find an oil leak after head was removed and put back?
Hey again guys. I'm having an issue with an oil leak coming from the passenger side of the motor, towards the rear, around the timing chain tensioner/oil filter area. It started back a few weeks ago when the head had to be removed and re-installed to replace some bent valves, so it most defintley has something to do with that. It's enough oil to coat the belts and parts below and I also tend to find it on the passenger side areas. It is a JDM SR20DE with about 52k on it.
What I found so far:
1) First I thought it was the timing chain tensioner (and/or lack of the gasket) but the gasket is still there, and the thing is on quite tight
2) It is not the oil filter. I thought perhaps mine was defective so I got a new one and nothing changed
3) I am 98 percent sure it's not coming from the valve cover, although this is difficult to tell in the area where the rest of the oil is coating other things, but it is not seeping from the front, drivers side, or front passenger side.
4) It's heaviest on and around where the ABS unit is located and even moreso on the passenger axle and steering rack, power steering fluid hose etc. There is lots of fresh oil ontop of the oil pan as well.
5) There's no leaking oil anywhere on the driver's side of the car, anywhere.
6) I believe it's leaking and getting onto the belts and they are carrying it up towards the alternator and front of the car (see photo)
7) I have just been adding oil everytime I drive and the engine runs fine otherwise.
I quick just made this photo in paint to where the oil is concentrated. This is not my engine, found this on google: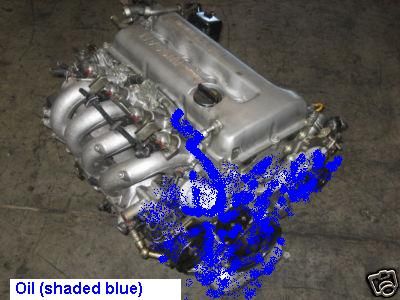 .
.
So my question, where do you think the oil is coming from? I have been staring at the engine and watching it idle all week, revving it, and can't find the source. I'm a bit stumped. Thanks