Just got back from the strip!!!! 11.3@127mph
well it was definetly an interesting night. First run on my slicks i decided to go balls out (bad idea) launched in 2nd gear and 2nd-4th gear just pounded the rev limiter not going anywhere with complete tire spin full throttle on 24psi of boost, ended up grinding my tranny cuz my cable stretched and lost a cylinder from missing a gear.
Borrowed a couple tools to pop the valve cover i knew i threw a rocker on #4 so sure enough it was the exhaust #4 rocker and it was still in one piece with no major dings so i found the shims, loosened the cam to where it rose up a bit and popped the rocker back in and torqued the cam back down. Bam started right up like a champ, I used a piece of rope to shim my clutch cable (again i drove 3 hours to go and i wasnt giving up easy)
Got back to the line and did another launch in 2nd gear this time i bogged bad, real bad and all while trying to modulate the throttle to keep from rediculous wheel spin. So i modulated it through 2nd and 3rd then full throttle in 4th, Ran a 13.2@127mph. Had two back to back like this same time same mph. I got my 1st gear to stay in so i did the next ones in 1st. First one i did not get the revs up higher and dumped the clutch too soon and bogged bad. 2.2 60ft and ran a 12.0@127mph, Next run my final run i did the same, still bogged real bad 1.9 60ft and hit the shifts quicker all while still 1/3-1/2 throttle 1st-3rd then full throttle in 4th and 5th gear, Clutch slipping top of 4th and all of 5th bad. Ran a best of 11.36@126.5mph The car has soo much more in it but they kicked me off for no roll cage or 5 point harness. So yeah needless to say that was the end of my night but it was probably one of the best nights at the track with overcoming a mishap and getting it back up and running the same night.
Anyways here are some vids and pics from tonight with a 1.7XX 60ft or better which is my norm had i rev limiter launched it like i normally do and had the clutch held im pretty sure a 10sec pass was there at well over 130mph:
http://www.youtube.com/watch?v=MshF5cmp7U8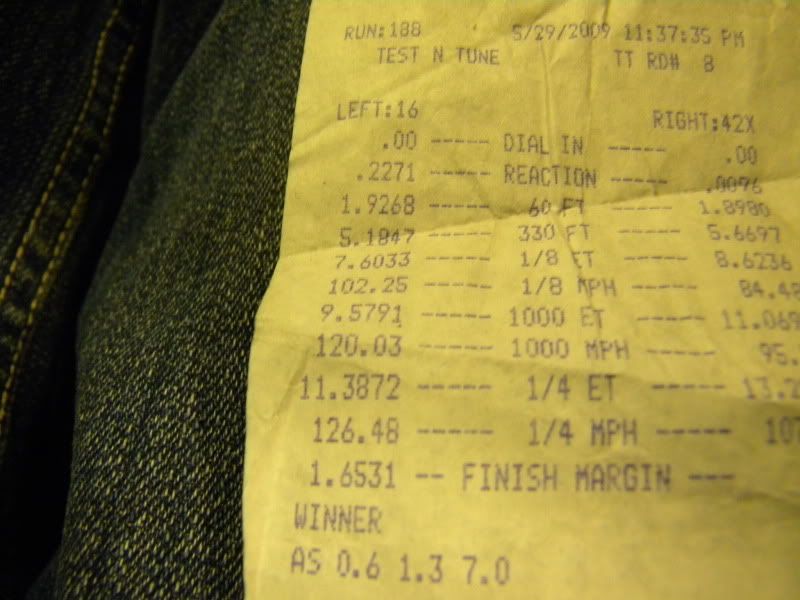 Sorry the vid didnt come out too good. But enjoy.