WAI and sensors question
Hello. I need a couple of question answered with a WAI set up (first one) I'm trying to do, and also a sensor to be identified. It's been quite the journey. Long story short, my engine blew and with the help of Jim and Miguel I got on the right track to putting in a new engine and finally getting my car running.
Now, I'm really paranoid, so I wanna make sure I know what this sensor is before I take my girl back on the road.
Exhibit A:
[img][IMG]http://i702.photobucket.com/albums/ww22/irefrancis/car/typeofosensor3-1.jpg[/img][/IMG]
Exhibit B: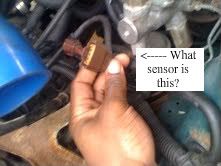 Any idea where the hell this sensor goes? It's the only sensor I wasn't able to match up.
Also, I need some info on setting up WAI. My friend gave me some WAI set up he was getting rid of, and I'm a little stumped. I know what to do with the MAF sensor. However, what on Earth do I do with the sensor that use to be on the stock air box?
Any advice is very much appreciated. I'm trying to finish up my car by Sunday 04-03-11, so fast advice is even more appreciated. Lol.
Thanks in advance, everyone of SR20.